03-31-02
Desperation
"Let us then with confidence draw near to the throne of grace, that we may receive mercy and find grace to help in time of need." Hebrews 4:16
Lately I have been thinking about what drives us to God and makes his Word come alive. Anyone can read the Bible, but it people come away with such different experiences. To so many it is like a textbook. They may learn a lot and increase their knowledge, yet their hearts are unaffected. Sometimes they desire for it to be more to them but it continues to seem dull. What is lacking?
As I have been thinking about this one reason I came up with is recognizing our desperate need. I believe that God gives everyone something to be desperate about. It may be situational circumstances in their lives or it may be ongoing areas of sin - or something else! But if we are honest each of us has something to be desperate about. The question is, do we recognize the desperate place we are in? And, once we do, what do we do as a result of it?
It seems to me that once we are aware of our desperation we must search the Scriptures to find the grace we need. It is then the Word of God comes alive and satisfies the deep thirst within. Aware of our dependence on God, we ravage through each verse seeking the truth we need. Without this attitude, the Bible becomes like a textbook whose doctrines have no affect on our hearts.
May we be ever aware of our desperate need!
03-30-02
A happy picture...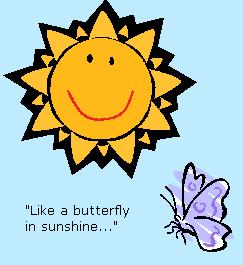 I'll come up with some thoughtful (hopefully) writing later. I got momentarily side-tracked. ;-)
03-27-02
The song playing in my mind...
It's Alright

Lyrics by Mac Powell/Music by Third Day
From the recording: Come Together, Track #6.

Your letter said that you were leaving
But you didn't know how long
I have never stopped believing
That one day you would return
And though waiting is the hardest
Part of everything I do
I do confess it's getting better
Knowing I will be with you

It's alright
It's okay
I won't worry about tomorrow
For it brings me one more day
Closer than I was to you

Now the question isn't "will you"
What I want to know is "when"
If it's one day or a million
I will wait for you 'til then
So I'm holding on to your words
And the promises you've made
There is not one you have broken
There's not one I didn't take

Your letter said that you were leaving
But you didn't know how long
I will never stop believing
I know one day you will return

Copyright Information
©2001 New Spring Publishing, Inc. / Vandura 2500 Songs / ASCAP.
All rights administered by Brentwood Benson Music Publishing, Inc.
All rights reserved.
03-25-02
Strange Dreams
"Finally, be strong in the Lord and in the strength of his might. Put on the whole armor of God, that you may be able to stand against the schemes of the devil. For we do not wrestle against flesh and blood, but against the rulers, against the authorities, against the cosmic powers over this present darkness, against the spiritual forces of evil in the heavenly places. Therefore take up the whole armor of God, that you may be able to withstand in the evil day, and having done all, to stand firm." Ephesians 6:10-13 (ESV)
I have had some strange dreams lately! Last night I dreamed of a spiritual battle that was occuring with me and some friends against demons. It started in one room where the demons/demonic forces were overpowering us and we couldn't win. There was a terrified panic within as one who is helpless. Then we were in the next room, and at first thought we had escaped the demons only to realize they were attacking again. But this time we had the upper hand and could be victorious. Then finally we were in the last room and it was peaceful without any demons.
You are probably wondering what the demons looked like. I don't remember! :) Some of the time I know they were invisible, like a unseen force that was pushing and tugging at us that whose power we could not withstand. Other times there was an actual physical form to them, but I do not remember its appearance. The rooms were more clear: they were like a normal bedroom but the doors stood out as if to scream it was the saving passage to escape.
Isn't that strange? The deep symbolism in it struck me, as I thought about it this morning. I am glad that I am no longer in the room where I was helpless against the attacks of the evil one, but now I have passed through the door of life and Christ is battling with me, helping me to overcome because of his victory on the cross. One day there will be no more fighting...what a blessed day!
PS I would have updated sooner, but Trellix (my site builder) has not been working. :p
03-15-02
Little Update
Life has been quite busy lately, even though this week was spring break (Mom keeps me busy cooking and cleaning, hehe) but I wanted to write a brief little update. I have definetly felt swept away in the river of God's grace sense my last entry. The burden lifted and joy replaced fusteration. I have felt the Lord so much nearer to me and his presence throughout my day. To hear him speak to me and guide me, and especially to change my heart, is wonderful indeed!
03-09-02
Striving for Fustration?
"But he said to me, 'My grace is sufficient for you, for my power is made perfect in weakness.' Therefore I will boast all the more gladly of my weaknesses, so that the power of Christ may rest upon me. For the sake of Christ, then, I am content with weaknesses, insults, hardships, persecutions, and calamities. For when I am weak, then I am strong."
2 Corinthians 12:9-10
Recently I have felt a little frustrated. As I considered this, I realized that I have been
striving
on my own strength. Striving is a very good thing, as people around me often encourage me to do right now. I definitely feel the "pressure" in some areas of my life. But I cannot strive
on my own strength
, which is what I have frequently been doing. It must be a pushing ahead with utter dependence on God's grace.
Picture me in a river: I am swimming with all my might ahead, but the current is so strong that I am not making any progress. No matter how hard I try to swim, I stay in the same place. I become frustrated. Then God says, "Stop striving and let go of all of your efforts. Rest in me, and my river of grace will carry you to the destination."
Part of the way we know that we are striving on our own is if we become frustrated when we can see no progress. For, if it is not our doings that we are depending on, then we will not have ourselves to be frustrated at. Nor should we be frustrated at God, because he
is
carrying us in his river of grace even if we cannot see the movement at the moment. It takes humility to be able to let go of ourselves and surrender to God - will we do it?